ENCORE! – MANUAL CINEMA'S CHRISTMAS CAROL: Live Stream Event!
Back by popular demand, for ONE MORE WEEKEND —
a unique live-theater presentation, beamed into your home from Chicago!
The Frida Cinema is proud to join interdisciplinary performance collective Manual Cinema in presenting their World Premiere online event Manual Cinema's Christmas Carol! Created for audiences of all ages, this live event is a visually and musically inventive adaptation of Charles Dickens' Holiday classic, specially staged and produced to broadcast directly to your home!
An avowed holiday skeptic, Aunt Trudy has been recruited to channel her late husband Joe's famous Christmas cheer. From the isolation of her studio apartment, she reconstructs his annual Christmas Carol puppet show – over a Zoom call while the family celebrates Christmas Eve under lockdown. But as Trudy becomes more absorbed in her own version of the story, the puppets take on a life of their own, and the family's call transforms into a stunning cinematic adaptation of Dickens's classic ghost story!
Manual Cinema's Christmas Carol
 will be performed live in Manual Cinema's Chicago studio in a socially distanced manner, and live streamed to audiences at home. In signature Manual Cinema fashion, hundreds of paper puppets, miniatures, silhouettes and an original score will come together to tell this imaginative re-invention of a cherished classic, all performed live before your eyes!
A portion of ticket sales support The Frida Cinema, Orange County's only non-profit art house cinema. We thank Manual Cinema for partnering us to share this event with our audience!
Visit link here to purchase:

https://www.eventbrite.com/e/encore-manual-cinemas-christmas-carol-streaming-live-theater-tickets-133037453605
Ticket purchasers will receive an email with access and viewing instructions. Show is one-hour long, and streams live beginning at the start time of your choice:
Thursday, December 17th — 5PM PST
Friday, December 18th — 5PM PST
Friday, December 18th — 7PM PST
Saturday, December 19th — 1PM PST
Saturday, December 19th — 5PM PST
Sunday, December 20th — 1PM PST

Sunday, December 20th — 4PM PST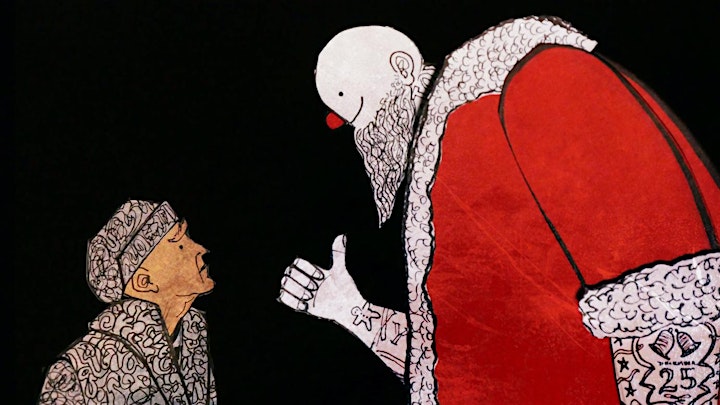 ABOUT MANUAL CINEMA
Manual Cinema is an Emmy award winning performance collective, design studio, and film/ video production company founded in 2010 by Drew Dir, Sarah Fornace, Ben Kauffman, Julia Miller, and Kyle Vegter. Manual Cinema combines handmade shadow puppetry, cinematic techniques, and innovative sound and music to create immersive stories for stage and screen. Using vintage overhead projectors, multiple screens, puppets, actors, live feed cameras, multi-channel sound design, and a live music ensemble, Manual Cinema transforms the experience of attending the cinema and imbues it with liveness, ingenuity, and theatricality. The company was awarded an Emmy Award in 2017 for "The Forger," a video created for The New York Times and named Chicago Artists of the Year in 2018 by the Chicago Tribune. Their shadow puppet animations will be featured in the film remake of "Candyman" debuting sometime in 2021, directed by Nia DaCosta and produced by Jordan Peele's Monkeypaw Productions.
Manual Cinema has been presented by, worked in collaboration with, or brought its work to The Metropolitan Museum of Art (NYC), Brooklyn Academy of Music (NYC), Arts Emerson, Yale Repertory Theatre, The Museum of Contemporary Art Chicago, The Kennedy Center (DC), Under the Radar Festival (NYC), La Monnaie-DeMunt (Brussels), The Noorderzon Festival (Netherlands), The Kimmel Center (Philadelphia) The O, Miami Poetry Festival, The Tehran International Puppet Festival (Iran), Davies Symphony Hall (SF), The King Abdulaziz Center for World Culture (Saudi Arabia), The Ace Hotel Theater (LA), The Hakaway International Arts Festival (Cairo), The Edinburgh Fringe Festival, and elsewhere around the world. They have collaborated with StoryCorps (NYC), Erratica (London), The Belgian Royal Opera (Brussels), Hubbard Street Dance (Chicago), Pop-Up Magazine (SF), Nu Deco Ensemble (Miami), NYTimes best-selling author Reif Larsen (NYC), three time Grammy Award-winning eighth blackbird (Chicago), NPR's Invisibilia, Topic Magazine, Grammy Award winning Esperanza Spalding and The New York Times.
In 2020 Manual Cinema celebrated their ten year anniversary and had their South American premiere (at the Santiago a Mil festival).
Learn more at 
manualcinema.com
!