At some point, the end of August and the advent of September no longer holds much relevance for us. We grow beyond the back-to-school nerves and/or excitement. However, whether it's nostalgia or relief that that period of your life is over, the memories of simultaneous endings and beginnings still linger. The school-age years are rife with ups and downs, plentiful material for stories about growth and discovery. If Autumn is bringing back memories, here's a list of movies to indulge that feeling.
1. The Graduate (dir. Mike Nichols, 1967)
The Graduate tells a tale of indecision and torpor. Benjamin Braddock (Dustin Hoffman) is a recent college graduate who returns home for the summer after earning his bachelor's degree. Benjamin's aimless life takes a turn for the new and unexpected when he's seduced by Mrs. Robinson (Anne Bancroft), his father's law partner's wife—and becomes even more tangled when he falls for her daughter, Elaine (Katharine Ross).
2. Kiki's Delivery Service (dir. Hayao Miyazaki, 1989)
At thirteen, trainee witch Kiki is now old enough to leave home and make a life for herself. Kiki and her talking cat Jiji decide to put down roots in a coastal town, and Kiki makes a job of making deliveries on her flying broom. A Studio Ghibli classic, Kiki's Delivery Service is a charming and comforting tale of navigating independence and adult life, with all its blessings and road bumps
3. Dead Poets Society (dir. Peter Weir, 1989)
Robin Williams has no shortage of memorable roles, but Dead Poets Society's Mr. Keating is near the top of the list. From helping Neil Perry (Robert Sean Leonard) find the courage to pursue his love of theatre to pushing Todd Anderson (Ethan Hawke) to recognize his own worth, Keating acts as a guide, ushering his students from adolescence to adulthood with courage and kindness that promises to linger after he is gone.
4. Empire Records (dir. Allan Moyle, 1995)
Independent record store Empire Records is in dire financial straits. Manager Joe Reaves (Anthony LaPaglia) doesn't have time to deal with the crisis right now—because he has to prepare the store for an autograph session with a washed-up '80s pop "star." Store employees include straight-A student and secret drug addict Corey (Liv Tyler), lovelorn A.J. (Johnny Whitworth), uninhibited Gina (Renee Zellweger), mischievous Mark (Ethan Randall), and suicidal Deb (Robin Tunney). Empire Records is in danger of being converted into a chain store. The question is whether the kids can work past their issues for long enough to find a way to save the Empire.
5. Beneath Clouds (dir. Ivan Sen, 2002)
Australian director Ivan Sen drew on his mixed indigenous and European heritage to explore themes of belonging and growing up in Beneath Clouds. Blonde, light-skinned Lena (Dannielle Hall), disgusted with her home life and frustrated with her Aboriginal mother, runs away from home in search of her absent Irish father. She runs into Vaughan (Damian Pitt), an angry young Aboriginal man who has escaped from low-security prison to visit his dying mother. Their journey is dangerous and tedious by turns, but their explorations of their identities and ethnicities become just as important as their destinations.
6. An Education (dir. Lone Scherfig, 2009)
Jenny Mellor (Carey Mulligan) is bright, restless, and Oxford-bound. When she meets a charming older man, David Goldman (Peter Sarsgaard), she sees a chance to escape her humdrum adolescence for the adulthood she's always wanted: a thrilling romp through a world filled with beauty, art, and sophistication. Even Jenny's parents find David mesmerizing—but David may not be who he says he is, and Jenny soon realizes that it's not only a question of what kind of life she wants but also how she wants to achieve it.
7. Pariah (dir. Dee Rees, 2011)
Despite her mother's (Kim Wayans) disapproval of both her dress sense and her openly lesbian friend, Alike (Adepero Oduye) is beginning to come to terms with her identity as a butch lesbian. Amidst her parents' marital strife, Alike has problems of her own to grapple with, including her relationship with her parents, new love, and deciding what she wants to do with her future.
8. Sing Street (dir. John Carney, 2016)
Set in Dublin, Ireland in 1985, Sing Street is a musical comedy-drama about Conor "Cosmo" Lawlor (Ferdia Walsh-Peelo), who is forced transfer to a Christian Brothers school when his troubled father decrees that money is too tight. Time and again, Cosmo can't seem to find himself on the right side of proper student conduct. When he meets and falls for beautiful aspiring model Raphina (Lucy Boynton), Cosmo desperately wants to impress her. Leaning into his unconventionality, he rounds up a group of friends and starts a new wave band in an effort to impress Raphina…and inadvertently finds both motive and means to escape his small town.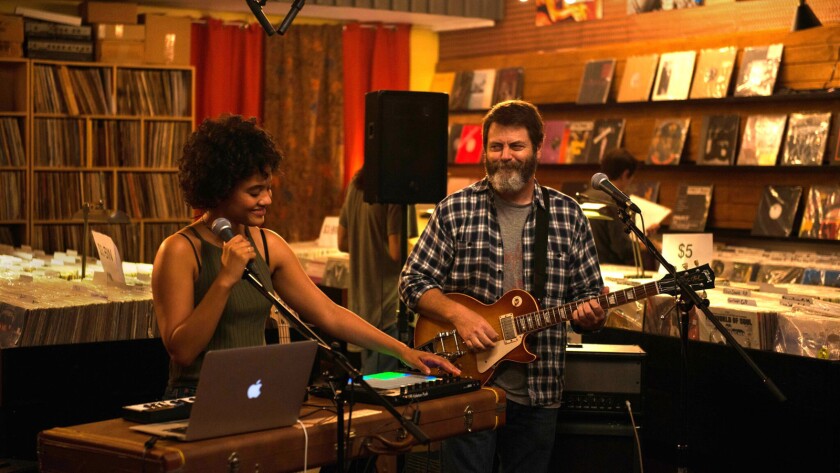 9. Hearts Beat Loud (dir. Brett Haley, 2018)
Nick Offerman and Kiersey Clemons star as Frank and Sam Fisher, a father-daughter duo who have regular jam sessions in their spare time. As Sam experiences first love and prepares to leave for college, Frank grapples with the encroaching failure of his vinyl shop. After Frank uploads one of his and Sam's songs to Spotify without her permission, the song becomes viral success. Sam finds herself torn between the joy she finds in making music and the more practical decision to study pre-med. Hearts Beat Loud also stars Toni Collette, Sasha Lane, Ted Danson, and Blythe Danner.
10. The Half of It (dir. Alice Wu, 2020)
Alice Wu's second directorial project is a modern-day Cyrano de Bergerac. Outcast intellectual Ellie Chu (Leah Lewis), strapped for cash, is hired by football player Paul Munsky (Daniel Diemer) to help him woo the girl of his dreams, the beautiful and popular Aster Flores (Alexxis Lemire). But both Paul and Aster to be more than meets the eye, and Ellie is not only experiencing profound human connection for the first time but also must confront her own needs and desires rather than catering to what other people ask of her.